| | |
| --- | --- |
| | |
---
Quick Tip: How to Sync Two Instances of Ableton Live
Posted: 12 Sep 2010 04:50 PM PDT
In this quick tip, I am going to show you a great way to sync two Ableton Live instances on the same computer by using external MIDI software. This way we can have one instance acting as a Master that will be controlling the playback of both instances.
This technique can be useful if a users requires two instances of the program to be open simultaneously with each instance playing a different live set instead of having all sets loaded in one instance.
Setting up
First of all we need to open up the Preferences in Ableton Live. Go to the Look Feel tab and activate the Allow Multiple Instances switch. This allows us to have multiple instances of Live loaded up.
Another prerequisite is that our sound card needs to have more than one stereo virtual output activated so that audio from the second instance of Live can be routed to it. My Echo Audio Indigo DJx sound card has four stereo virtual outputs so theoretically, I can have another three instances loaded up at the same time!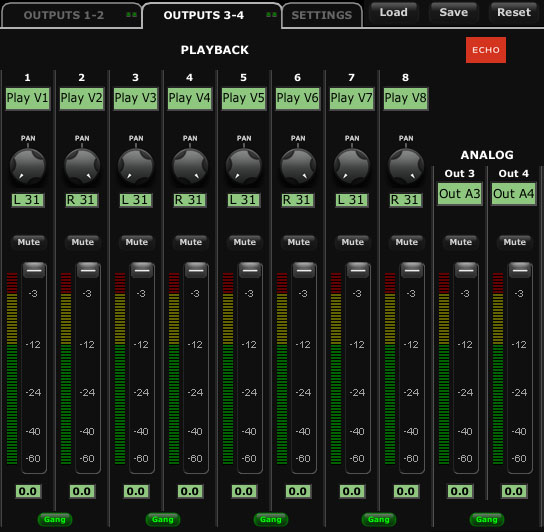 The extra software we are going to be using is a free software called MIDI YOKE. MIDI YOKE is a MIDI Patch Cable driver. It's a Windows multimedia driver that allows you to connect the MIDI output from one program to the MIDI input of a different program. Mac users already have this functionality in the form of the IAC driver.
Once downloaded and installed head over to Live's preferences in the MIDI Sync tab. Under MIDI Ports activate Sync for the Output: Out to MIDI Yoke: 1 port.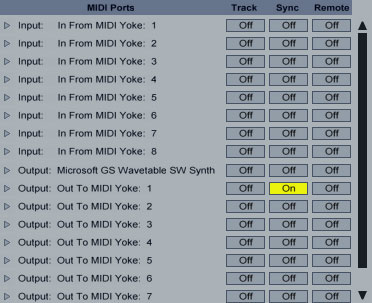 Exit Preferences and fire up another instance of Live. A notification icon will inform us that we won't be able to use another rewire slave application until we quite the current Rewire master application and restart Live. You can safely ignore that warning and hit OK.
Once the second instance of Live is loaded go to Preferences for that instance and in the MIDI Sync table under MIDI Ports activate Sync for the Input: In From MIDI Yoke: 1 port. Close the Preferences.
We can, now, see the External Sync Switch appearing at the top left of the second instance. When activated, Live will follow the sync source that has been selected in the MIDI/Sync Preferences. Go ahead and activate it.
In Action
Now, we can drop any audio or MIDI files onto both instances. By playing a clip on the Session or Arrangement view on the first instance or just hit the Play button, we can see that the Sync Out indicator of the first instance on the top left starts flashing. This means that Live sends MIDI sync messages to all output ports which have been enabled for sync in the MIDI/Sync Preferences.
Now, have a look at the second instance at the same area near the External Sync Switch. The Sync In indicator starts flashing at the same time meaning that Live receives usable MIDI sync messages.

Now the first instance acts as the master application. Pressing Stop on the master application will stop both instances which can then be started again only by the master application's Play button or by playing any of it's clips. Not only that but as you can see the second instance's tempo starts following the tempo of the first instance. You might experience a slight delay for a second when you restart the playback since Live needs this time to resync both instances. If after all you notice a delay between your two instances, you can go back to the Preferences of the second instances on the MIDI/Sync tab and adjust the MIDI Clock Sync Delay value for the Input: In From MIDI Yoke: 1 port, by expanding its arrow on the left and adjusting accordingly.
Theoretically, you could have as many Ableton Live slave applications as your virtual stereo outputs. On top of that you can still rewire other applications like Propellerheads Reason, as slave applications to the first master instance of Live.
Thanks for your time and have fun!
Open Mic: Tell Us What You're Listening to Right Now
Posted: 11 Sep 2010 05:00 PM PDT
Are you listening to music right now? What's playing?
Each weekend we open our mic to readers and lurkers alike to come out of the woodwork and tell us your thoughts and opinion, your experiences and mistakes, what you love and what you hate. We want to hear from you, and here's your chance.
---
Let us know the song, album and artist. And if you like, tell us what software you are using to play it.
10 Fruitful FL Studio Tutorials
Posted: 11 Sep 2010 01:00 AM PDT
FL Studio is a DAW with a pattern-based philosophy and a unique workflow. It started life as a MIDI drum editor in 1998, and has gained features over the years until it has become a great alternative DAW.
CNET Staff comment: "FL Studio offers a tremendous value for what you get. Comparable products cost nearly twice as much. FL Studio's quirky sound generators and interoperability make it a great addition to any studio. Be warned, though: several versions of FL Studio are available, so more features are included as the price goes up."

Last week's article covered FL Studio's history and features. This week we learn how to use it. Here are 17 tutorials coming from Youtube and Audiotuts+. The Image-Line website lists Video Tutorials on its support menu. Unfortunately only registered users have access, and a log in is required.

This article was previously published on the AudioJungle blog. We'll be bringing you an article from the archives each week.
1. Fruity Loops Tutorial: Making a Hip Hop Beat in FL Studio 9 using P5audio sounds
"This Fruity Loops tutorial shows you how to make a Hip Hop beat Timbaland style in FL Studio 9 using sounds and loops from P5audio.com. Download free loops and sounds for Fruity Loops at www.p5audio.com/fruity-loops.php."
2. FL-Studio 9 Preview
"The new generation of the FL Studio 9. New plugins and new style!"
3. FL Studio Tutorial Basics – Vocoder Explained – Warbeats Tutorial
"From Warbeats.com: How to use the FL Studio Vocoder."
4. FL STUDIO TECHNO TUTORIAL: Tranceleads
"A little tutorial on fruity loops explaining the typical formation of a Trancelead by Beat Theory."
5. FL Studio Midi Keyboard Recording Update
"This is a follow up video on my midi keyboard recording video. In this video I will address the most frequent problems people encouter as they are setting up for midi recording in fl Studio. I am also going to give you a live demo on how to record with your midi keyboard."
Mar 3rd in FL Studio, Sound Design by Jacek Majer
In dance music genres such as house, the bass plays an important role – in many cases being the key to a successful track. This depends not only on the bassline arrangement but also on the texture of the sound. The character of this instrument must fit with other components, that create – in this case – a complete soulful or funky house track.
Oct 21st in FL Studio, Production by Luke Wolfenden
The wobble bass, used frequently in the Dubstep genre, is a sound that well, wobbles! It consists of a low pass filter with a LFO assigned to the cut off. That may sound extremely complicated, but in actual fact it's quite easy to do and master. You can find examples of this technique used in Benga's "Drums West."
Aug 14th in FL Studio, Production by Dean Kelly
You may have witnessed Drum & Bass's dramatic evolution over the past decade. From it's Jungle origins Drum & Bass has now matured into a genre that overflows with adrenaline, excitement, strong production values and an intensity rarely found in music today. To think all of this began with the a spark of inspiration and some drum-solos (breakbeats) sampled from black soul and funk recordings of the early 1960's.
In this tutorial you will learn the time honored techniques of manipulating one of these famous breaks and fashioning it into Drum & Bass sensibilities.
Aug 9th in FL Studio, Production by Nic Bertino
It isn't often that a simple, under-produced beat is the soundtrack to a song that sells millions of copies. Even more amazing was that Soulja Boy was able to create this song using only stock sounds that come with FL Studio!
In this tutorial I'll show you how to re-create Soulja Boy Tell 'Em's 'Crank That' in FL Studio. This process will walk you through the construction of a #1 smash-hit and demonstrate that you don't need top of the line tools to create a best-selling hip hop track.
Jul 8th in FL Studio, Production by Nic Bertino
Ever heard a song by T-Pain on the radio and wondered how the robotic vocal effect is achieved? By the end of this tutorial, you will own the autotuning sound that is used on so many pop records right now.
Workshop #119: More Than Meets the Eye by Retronix
Posted: 10 Sep 2010 05:00 PM PDT
At Audiotuts+ we regularly put up a reader track for workshopping and critique (find out how to submit a track). This is how it works: you upload your song, and every week or so we'll publish one here and step away from the podium. The floor is yours to talk about the track and how the artist can fix problems in and improve upon the mix and the song.
This track has been submitted for your friendly, constructive criticism. They have put their track (and their heart and soul) in your hands to learn and get useful feedback.
Do you enjoy the song or track itself? Does it have potential?
Can the arrangement be improved?
How did you find the mix? What would you do differently?
What do you enjoy about the rhythm track? What can be done to improve it?
Is the choice of instruments relevant and effective for the style/song?
Are the lyrics (if any) effective? Does the style, arrangement and genre of the song suit them?
Can you suggest any specific techniques that might improve the track?
Do you have any other constructive feedback?
---
More Than Meets the Eye by Retronix
Artist's website: soundcloud.com/retronix
Description of the track:
A dark electro / techno track…still working on the last few edits…but would already want some feedback…mainly on the mix..:)
More than meets the eye by Retronix
Terms of Use: "Please dont use my stuff for yourzelf." Users can stream the track for the purposes of giving feedback but cannot download or redistribute it.
Have a listen to the track and offer your constructive criticism for this Workshop in the comments section.
---
Submit Your Tracks for Workshopping
Need constructive criticism on your own tracks? Submit them using this form.
Additive Synthesis in Reason – Part 2
Posted: 10 Sep 2010 03:16 AM PDT
In the second part of this tutorial we will look at how modulation can make our organ patch more interesting and realistic, and how further modulation of the individual overtones in our additive patch can create different sounds and textures.
---
Step 1
Load up your patch from the previous tutorial. It would be a good idea to save the patch under a different name so that you can return to the basic organ patch at another time should you wish.
Just to recap our tone should sound like this:
Download audio file (Audio Example 1.mp3)
---
Step 2
We are going to use the programmer in the Combinator to apply some modulation to the sound we have created, to get a more authentic organ sound.
Click the 'show programmer' button in the Combinator. Click 'Subtractor 1′ on the left hand side of the panel, which will bring up the modulation routing options for this Subtractor device. Choose the target for Rotary 1 to be the LFO1 rate, leaving the minimum and maximum values where they stand, at 0 and 127.
The panel should now look like this:
---
Step 3
Assign rotary 2 to the LFO1 Amount, again leaving the minimum and maximum values as they are. The panel should now look like this:
---
Step 4
Repeat steps 2 and 3 for all eight of the Subtractors in your Combinator patch. This means that when you turn Rotary 1 or 2 it will affect the LFO1 rate and amount controls on all of the Subtractors which make up your organ tone. All of the LFOs should already be set to affect the pitch of the oscillators, so turning up Rotary 2 should set the pitch wobbling wildly. It will be helpful at this point to label the two rotary controls as I have done below:
---
Step 5
Now all we need to do to get that authentic organ wobble would be to adjust the 2 rotary controls to suitable values. For this audio example I have set the rate to 81 and the amount to 15, for a nice subtle wobble in the notes.
---
Step 6
For some further modulation ideas here are some suggestions:
Try modulating the volume of the notes as well as, or instead of the pitch. You will need to connect LFOs to the rotary inputs on the Combinator manually achieve this.
Instead of using the programmer in the Combinator and the global rotary controls to modulate the pitch and volume, try setting different values on each of the Subtractors, this can create really interesting sounds, though it can get a bit messy!
---
Step 7
Now we are going to start to play with some different sounds from our additive synth patch. The first sound we can create will be a bell type sound, so save the organ patch and then re save it under a new name for the bell sound.
With a bell type sound the sound rings on with some decay after a note is pressed so firstly if you are triggering your notes from a sequencer track make sure the notes are very short, as demonstrated:
Download audio file (Audio Example 2.mp3)
---
Step 8
Our bell sound will not need any modulation, so turn off any pitch or volume modulation that you added for the organ sound. The bell sound we are going to make is characterised by the lower harmonics ringing on whilst the higher ones die away very quickly, giving the initial 'attack' on the sound. To achieve this we can alter the release times on the amp envelopes of each Subtractor.
To make the main body of the sound ring out I have increased the release time of the first four Subtractors at the top of the pile up to about 55.
Download audio file (Audio Example 3.mp3)
---
Step 9
We are starting to get there now, but the higher frequencies still die away a little too quickly for my liking so I have increased the release time on the other four Subtractors to about 22. At this stage you can also get away with increasing the volume on these higher frequencies as well, to make the attack on the note more pronounced.
Download audio file (Audio Example 4.mp3)
---
Step 10
You can now hear our completed bell sound. This should give you a good idea of how manipulating the different sine waves that make up our tone in different ways you can get a huge range of different sounds. If you wish to continue to experiment with other sounds here are some ideas for you to try out:
Try making a long, pad type sound, remember that we don't have to always try to replicate real world instruments. For this sound you could experiment with modulation on individual overtones, delayed LFOs, and sounds with a big gap in between low and high harmonics.
Remember that white noise is made up from an equal blend of all frequencies, so if you layer up enough sine waves in one patch you could start to filter it out and create percussive and drum type sounds.
Adding effects such as reverb, chorus and delay to your sounds can really bring them to life.
The track below is made entirely from additive synth patches and sine waves. Every element including the drums has been constructed from individual sine waves to create richer, more interesting tones. I have used effects in Reason to add some depth and interest.
Download audio file (Audio Example 5.mp3)
Quick Tip: How to Manage VST and AudioUnits Plugins in Mac OS X
Posted: 09 Sep 2010 04:45 PM PDT
VST and AudioUnits (AU) are the two native plugin formats for Mac OS X. Although there are other DAW specific formats for plugins, VST and AudioUnits are more common and compatible across various DAWs like Cubase, Logic, etc. There is an abundance of VST and AU plugins for expanding your DAW and building your collection of effects. However, it can be difficult to know how to get those plugins running on your computer. Especially if they are free and do not come with installers or instructions. I'll help you get those files in the right places and make them appear in your plugin stacks.
---
Finding the Audio Plugins folder
The plugin folder is nested in the Macintosh HD Library. There are usually a minimum of two Libraries on your Mac, one in Macintosh HD and another in your user account. You should only place the plugins in the Macintosh HD Library so that it can be accessed by all users on the computer. The usual location of the folder should be:
Macintosh HD/Library/Audio/Plug-Ins/
---
How to Install VST Plugins
Unzip the downloaded file if it is an archive like .zip or .rar. You should only see a file with a .vst extension. This is the actual file required for the plugin.
Move the .vst file to the VST folder in your audio plugins folder.
If your DAW is running, close it and restart it. When your DAW starts up, it will rescan your plugins folder and detect your recently installed plugin.
---
How to Install AudioUnits Plugins
Unzip the downloaded file if it is an archive like .zip or .rar. You should only see a file with a .component extension. This is the actual file required for the plugin.
Move the .component file to the Components folder in your audio plugins folder.
If your DAW is running, close it and restart it. When your DAW starts up, it will rescan your plugins folder and detect your recently installed plugin.
---
Other Plugin Formats
You might come across another folder labelled VST3, this is for VST3 plugins which are not as common as of yet. They can be identified with the .vst3 file extension. MAS is used for MOTU Audio System. HAL is Hardware Abstraction Layer and you should not be needing to change anything there.
---
Tips and Tricks
There some things that you can do to make managing plugins easier. If you have a huge collection of plugins but you do not use them all at the same time, you can waste a lot of time waiting for your DAW/host to scan all of them.
Create a folder as seen in the picture above labelled Components (Disabled) or VST (Disabled).
Simply drag the associated plugin to the respective 'Disabled' folder if you do not wish to load the plugin or have problems loading it.
Restart your DAW if it is running. Your DAW will rescan and load the plugins in your Components or VST folder, and ignore the ones in the "Disabled" folders.
Remember to check for updates for your plugin first if they are giving you problems. Updates could provide compatibility fixes for newer DAWs or operating systems. Keeping your plugins in check and trimming it down can make your music making experience more responsive and trouble-free.
Audiotuts+ Readers' Top 20 Guitar Solos
Posted: 09 Sep 2010 03:55 AM PDT
Guitar solos are inspiring, and often mark the climax of a song. They are as different as the guitarists who play them, and the best of them convey rich emotion and feeling. In a recent Open Mic we asked Audiotuts+ readers to share their favorite solo, and what they find inspirational about it. Here are their Top 20.

---
1.

Dimebag Darrell on Floods by Pantera

"Might be Dimebag's [Pantera] solo on 'Floods'. Absolutely orgasmic. It is from 'The Great Southern Trendkill' from '96. The outro is also mindblowing." (Thomas)
2.

Mark Knopfler on Tunnel of Love by Dire Straits

"Mark Knopfler playing the solo at the end of Tunnel of Love in 1986 (Dire Straits Thank You Australasia concert). The solo starts at 05:58.

"Like many of Mark's solos, the live version is far superior to the album version. The solo starts slow and spare and builds up to a fantastic climax. I prefer Mark's solos to those of other guitarists (say Eric Clapton) as Mark tells a story with his guitar, weaving in and out of little riffs while moving inexorably to an awesome conclusion. He's rarely repetitive, and paraphrasing his own words, 'I'm not a good singer so I let the guitar do the talking for me.' This, and the live solos for Telegraph Road and Sultans of Swing, are my all-time guitar faves
" (Lucas)
3.

Dave Mustaine on Holy Wars by Megadeth

"Guitar: Flying V "Rust in Peace". Inspires: Imagination, war XD technique." (AeroDynamite)
4.

David Gilmour on Shine On Your Crazy Diamond by Pink Floyd

"Slow and lengthy, so much so, that it may fall out of the range of what some might consider a "guitar solo," but it has always haunted me, and it always pulls me in." (Joshua Mormann)
5.

Jari Mäenpää on Winter Madness by Wintersun

"The song 'Winter Madness' by Wintersun has quite an amazing solo. The guitarist does plenty of sweeps, a good amount of speed picking, and a few sweet tapping tricks while, what sounds to be, playing effortlessly along side the synth dude." (Ryan)
6.

Tore Ostby on Missing You by Ark

"A different kind of music, but the guitar is brilliant: Ark – Missing You." (Hate)
7.

The Edge on Love is Blindness by U2

"Perfect marriage of music and lyric being elevated by a solo. This solo is a great use of restraint. I don't know if it was intentional or not, but it really captivated the message of the lyric. Sometimes love is a whimper, you cant see a clearly – it can be painful to sacrifice without knowing the results. How often do we commit only when we know the potential outcome."
8.

Richard Thompson on Mother Knows Best

"Just a ridiculously accurate show-off piece. He doesn't use one single rock and roll cliche, and his tone is pure Fender. Quite country sounding at times, but there are times when it's so thrilling you have to catch your breath. Afterward, I wonder why he never ends up on those "best guitarist" lists. He's a virtuoso whose songwriting chops are better than his guitar playing, which is a roundabout way of saying the guy's a genius." (BeeDub)
9.

Michael Gurley on Feel Me, Don't You by Dada

"This solo is the climax of the song, and right out of the gate, the repeated bends and trills rip your head off, so that by the time he gets to the wah-wah pedal towards the end of the solo, your head is spinning. The breakdown right after is so G-Funk, I'm surprised no one has sampled it." (BeeDub)
10.

Pat Metheny on Have You Heard

"Pat Metheny 'Have You Heard', from the album Letter From Home. The overall vibe to his music is somewhat chilled out, artsy, be-bop, new-agey (I guess), but he absolutely rips your face off with this solo. Here's the live version." (John at Hella Sound)
11.

Andy Summers on Bring On the Night by The Police

"He's probably playing a Telecaster or a Strat. This solo isn't a display technical mastery, but it's a brilliant display of musicianship in terms of capturing the exact right feeling for the song. The frustration — the argument he's evoking, is genius in the context of the song—like a bird that's stuck in a cage, manically picking its feathers out. Perfect." (John at Hella Sound)
12.

John Petrucci on Under a Glass Moon by Dream Theatre

"Yea yea, rivers of notes can be boring, but Petrucci throws the kitchen sink at this one and manages to make it tasteful too." (Avant)
13.

Allan Holdsworth on Devil Take the Hindmost

"Again, not ALL solos have to be blazing fast, but this is beyond technically amazing playing: Allan Holdsworth's musical language just sounds totally alien at times. Disgusting solo." (Avant)
14.

Larry LaLonde on The Ballad of Bodacious by Primus

"It's essentially just one note, great rhythm and a panning effect. LaLonde has the technical skill to play something long winded, complex and flashy, but he chooses to play something childishly simple, hugely musical and even slightly humorous, too, instead. If that's not inspiring, I don't know what is." (Glynn) Solo at around 3:00.
15.

Steve Vai on Ladies Night in Buffalo by David Lee Roth

Recommended by Vivek.
16.

Gary Moore on Blues for Narada

"What inspires me about this? It just oozes 'feel' and has some great changes with melodic runs that just bring out those juicy chord tones amazingly. I also love the dynamics of this piece throughout." (Anthony)
17.

Stevie Ray Vaughan on Little Wing

"What inspires me about this? Obviously the original Hendrix version is amazing, but for guitar this is by far my favorite. Much like the Gary Moore song above, it's just bursting at the seams with 'feel', dynamics, a wealth of different playing techniques and well, amazing guitar playing all round!" (Anthony)
18.

Hiram Bullock on Little Wing by Sting

"This solo (starts at 1:30) still haunts me, it's just brilliant!" (Lemmon)
19.

The Edge on If You Wear That Velvet Dress by U2

"I like the whole sound, such a feeling." (Lemmon)
20.

David Gilmour on Near the End by Pink Floyd

"I love Gilmour's style and I love how it comes to orgasm with acoustic-electric change." (Lemmon)

Well, there are some amazing solos in there. Which was your favorite? And if we missed it, be sure to let us know about it in the comments.
You are subscribed to email updates from Audiotuts+
To stop receiving these emails, you may unsubscribe now.
Email delivery powered by Google
Google Inc., 20 West Kinzie, Chicago IL USA 60610
AUDIOTUTS Updates, Here you can watch AUDIOTUTS Updates online. Recently it is the latest update serial play for the AUDIOTUTS Updates.AUDIOTUTS Updates is fully Eng Subbed, and avail in eng sub. Now it is availab le to watch online. you can watch AUDIOTUTS Updates by the given links below, click on AUDIOTUTS Updates Parts below to watch online. AUDIOTUTS Updates Vidoe is source of Mega Video, Youtube etc, so you can watch AUDIOTUTS Updates without any issue.
AUDIOTUTS Updates Part 1
AUDIOTUTS Updates Part 1
AUDIOTUTS Updates Part 1
Tags: AUDIOTUTS Updates, AUDIOTUTS Updates watch online, full AUDIOTUTS Updates video, AUDIOTUTS Updates download, AUDIOTUTS Updates torrent, free AUDIOTUTS Updates, AUDIOTUTS Updates megavideo, AUDIOTUTS Updates full, AUDIOTUTS Updates eng sub